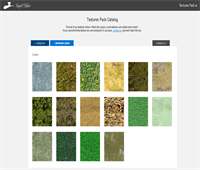 TexturesPack is a set of ready-to-use diffuse textures, particularly convenient for games. The idea is to provide the widest set of textures for indie game developers, in order to reduce the time spent to search for textures.
All textures are 512×512 and seamless. And as usual, we are really looking for your feedback. Do not hesitate to ask for more textures.
An online sampler is available here:HERE
License
This product set is released with a "Pay What You Want" license model.
If you decide to acquire a license, you will pay what you think it's worth. The download instructions will be sent to your email address. (it may take a couple of days). The paypal donation system is what fit the best this model. Donations below 1 euros will be considered as sponsoring, and will not grant you a license.